Departments - RLMC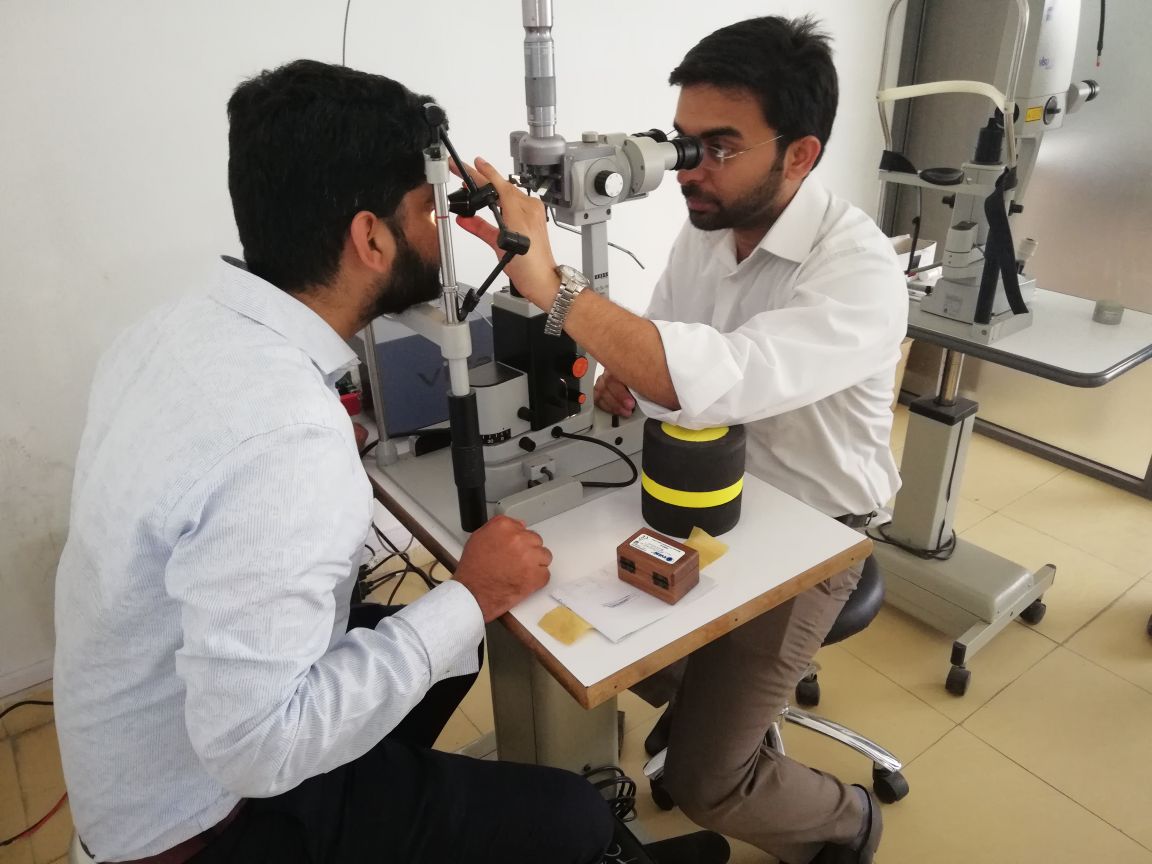 Opthalmology
Eyes allow us to appreciate beauty of the world and experience the joy of learning new activities and undertake new adventures. So, the cost effective and comprehensive evaluation and management of eye diseases is a key which opens the gates of beautiful world. With high aims and objectives, eye department of Rashid Latif Medical College was established in 2010, under the supervision of Prof Naeem Ullah. Since then, OPD is open for 6 days a week and there is provision of outdoor and indoor facilities. We have a dedicated team of experienced faculty. The department has expertise to treat a wide range of patients with various types of vision impairments. Cutting-edge laser technology of YAG and Argon is also available. Besides providing tertiary care services for patients, the department is actively involved in teaching FCPS trainees, medical students, optometrists and ophthalmologists. The department is also active in research activities. Research projects are designed in collaboration with other renowned centers of Lahore. Current research scope of the department includes Anti-VEGF therapy for retinal pathologies, pro-angiogenic biomarkers in diabetes and case reporting of rare ocular diseases. Free eye camps are arranged twice a year for whole one week to provide state of the art facilities to the ailing, non-affording community. Peripheral camps in the far-flung areas of Kasur are also arranged to provide medical and surgical management at the door step of patients We thrive to strengthen our department in all fields of ophthalmology and our scientific goals for the next five years include;
To work on preventable blindness which mostly affects old population
To expand surgical services in all sub-specialties
To start small research projects for the undergraduate students to involve them in writing and publication.
Clinically, we thrive to provide best care for our patients. Aim is to become one of the leading eye centers in Punjab.
Facilities:
Out Patient Department (OPD)

OPD is open for patients, Monday through Saturday, from 8:00 am to 2:30 pm. It is equipped with state of the art facilities including refraction, anterior and posterior segment examination, assessment and management of eye diseases, from primary eye care to complicated ocular disorders under the direct supervision of highly qualified eye specialists.



Ward/ Indoor facility

Patients who need indoor management are admitted in the eye ward, where they are provided with best services with large range of medical and surgical options.



Ophthalmic Laser and Diagnostic Center

We have a well-equipped Ophthalmic Laser and Diagnostic center where YAG and Argon laser facilities are available to treat diabetic eye diseases, retinal breaks, glaucoma and after-cataracts. Special diagnostic facilities include Pediatric ophthalmic assessment, orthoptic assessment, visual field analysis, A and B scan.



OT Service

We are efficiently providing surgical management from minor procedures to state of the art Phacoemulsification (under topical anesthesia) and retinal surgeries.



Free Eye Camps and Surgeries

Although free surgical and medical management for the lower socio-economic class is available throughout the year but one week long free eye camps are arranged twice a year in February and October. Patients are provided free medical and surgical management, including diagnostic and laser facilities.



Departmental Library

We have a handsome collection of Ophthlamic books in departmental library, which includes invaluable selection of books for ophthalmologists, FCPS/MCPS trainees and under graduates. There is also access to hundreds of books, which are available in soft copies.


Objectives of the Department:
N/A
List of Faculty: