MBBS/BDS Interviews (Amended Notice:01-02-2021)
Candidates who are interested in getting admission in RLMC may contact the college to schedule an interview not later than 4th February 2021 at 09:00 am to 1:00 pm (PST) .
No interviews will be conducted after 4th February 2021.
Contact : 0300-8487562, 0301-8487562
Schedule for MBBS/BDS Interviews (Amended Notice:27-01-2021)
1. On Friday 29th January 2021 9:00 am to 1:00 pm the college shall interview candidates upto merit list no. 1500 on PMC merit list
2. On Saturday, 30th January 2021 9:00 am to 1:00 pm, the college shall interview candidates from merit list no. 1501-3000 on PMC merit list
3. Candidates with aggregate above 64% (out of 80%) according to the PMC merit list may contact the college to schedule an interview.
Contact : 0300-8487562, 0301-8487562
Email : [email protected], [email protected]
MBBS/BDS Admissions 2020-2021 Online Interviews
Foreign/overseas students who are unable to visit college can avail the facility of online interviews on 28, 29 and 30th January between 11:00 am 1:00 pm (PST). To schedule your online interview please contact the college on following numbers.
0300-8487562, 0301-8487562
For Online Interviews, Please use the following Platforms.
Skype ID: rashidlatifmedicalcomplex
Google Meet ID: [email protected]
Call for interviews (Notice Date:26-01-2021)
The student body, administration & faculty of Rashid Latif Medical College, and Rashid Latif Dental College congratulates all candidates who have qualified to be interviewed at Rashid Latif Medical College and Rashid Latif Dental College or one of the other prestigious institutions.
The interviews will commence on Wednesday 27th January at 9:00 am.
1. The candidates on merit list from no.1-500 will be interviewed on day 1st.
2. The next 500 candidates listed from no. 501-1000 will be interviewed on January 29th, 2021. Please note it is January, 29th for next 500 candidates.
3. The subsequent 500 candidates, from 1001 to 1500 will be interviewed on Saturday, January 30th, 2021.
4. The candidates from 1501-2000 will be interviewed on February 1st, 2021.
5. The candidate listed on merit list from 2001-2500 will be interviewed on February 2nd 2021.
6. The candidate listed on merit list from 2501-3000 will be interviewed on February 3rd 2021.
Rashid Latif Medical & Dental College has made every endeavor to contact prospective students for interview according to the Merit List provided by Pakistan Medical Commission. Rashid Latif Medical & Dental College will make every effort to strictly uphold the merit during the admission process.
The selected candidates will be required to deposit their college dues within two working days. Therefore, the students, their parents and guardians are advised to make appropriate arrangements to deposit the college dues within the stipulated time.
After the lapse of stipulated time, the college will offer the slot to the next candidate on the merit list.
Once the allocated seats of Rashid Latif Medical & Dental College are filled and fee deposited, the college will stop the interview process.
If any candidate has any complaint, they can send it to following email address by 3rd February, 2021;
[email protected]
Any complaint received after 3rd February, 2021 will not be entertained.
The final merit list shall be displayed on the college website as per schedule on 7th February, 2021.
Errors and omissions are excepted.
Principals
Rashid latif Medical College
Rashid Latif Dental College
ADMISSION POLICY FOR MBBS/BDS
Eligibility Criteria
All candidates must have scored 60% or more in MDCAT on the aggregate or must have cleared the SAT II in individual subjects including Physics, Chemistry and Biology securing more than 60% marks, or any other eligibility criteria set by Pakistan Medical Commission at the time.
Student category
1. Local Student:
Any student having Pakistani nationality.
2. Foreign Student:
Foreign national or Pakistani having dual nationality / resident status.
3. Overseas Pakistani:
Pakistani national student who has passed qualifying examination to meet eligibility criteria from a foreign land, foreign examination body or foreign examination system.
The college has decided to pursue a completely independent selection process firmly grounded in the principles of transparency and promotion of merit. Our process will meticulously select the best candidates and shall be all-inclusive to give fair chance to every candidate without any discrimination of gender, faith and social and political affiliations.
The selection process will be based on previous academic achievements, and the assessment of the candidate's aptitude, leadership potential along with their language skills. The administration will give weightage to candidate's keenness and dedication assessed by time and effort spent during their academic years in social and charitable pursuits.
The college may conduct a written test based primarily on MCQ's that would test the cognitive domain of the candidates for assessing their aptitude and ethical values as best as is possible with this assessment tool.
Those clearing the test will be interviewed through objectively structured assessment and evaluation interviews, again assessing the aptitude and attitude of the prospective students as well as their leadership potential. The tests may be carried out at centers to be specified later, however the college will carry out assessment at least at its Main Campus.
The information regarding the format, syllabi and dates of the assessment would be made available nearer to the time of admissions.
Confirmation of Admission
Admission of the selected candidates will be confirmed only after the annual tuition fee and other dues have been cleared within the due date as specified on the challan form. If seat is not confirmed it will be offered to the next candidate.
Verification of Documents
All documents and certificates will be verified from the issuing authorities and if found incorrect, forged or changed in any manner the fee and total dues will be confiscated, admission cancelled and student expelled from the college rolls with intimation to Pakistan Medical Commission and concerned University.
Age of the candidate
In case of students with same merit position preference will be given to the student who will be older in age.
Panels and duration:
Each interview will last for upto a total of 10 minutes. There will be multiple panels and each panel will comprise of the following;
Principal RLMC or his representative.
Principal RLDC or his representative.
Member of the Faculty/Administration.
Questions:
Brief introduction by the candidate.
Her / His strengths and or weaknesses.
Two questions based on the information provided in brief introduction.
How did you make up your mind to become a doctor/dentist?
What do you intend to do after becoming a doctor/dentist?
Why did you choose Rashid Latif Medical College/ Rashid Latif Dental College?
What differentiates you from other applicants?
What other dental/medical colleges have you applied to?
Where do you see yourself in ten years from now?
What do you find most interesting about medicine/dentistry?
Financial Support:
Candidates will be asked to provide evidence of sufficient financial support to pursue their education smoothly
Dates of Interviews:
The interviews will commence at 9.00 am sharp on a date to be specified after merit list is displayed by the PMC at the Rashid Latif Medical College. All interviews will be held in the premises of Rashid Latif Medical College.
By Principal
Rashid latif Medical College
Rashid Latif Dental College
MBBS Fee Structure for Admissions 2020-2021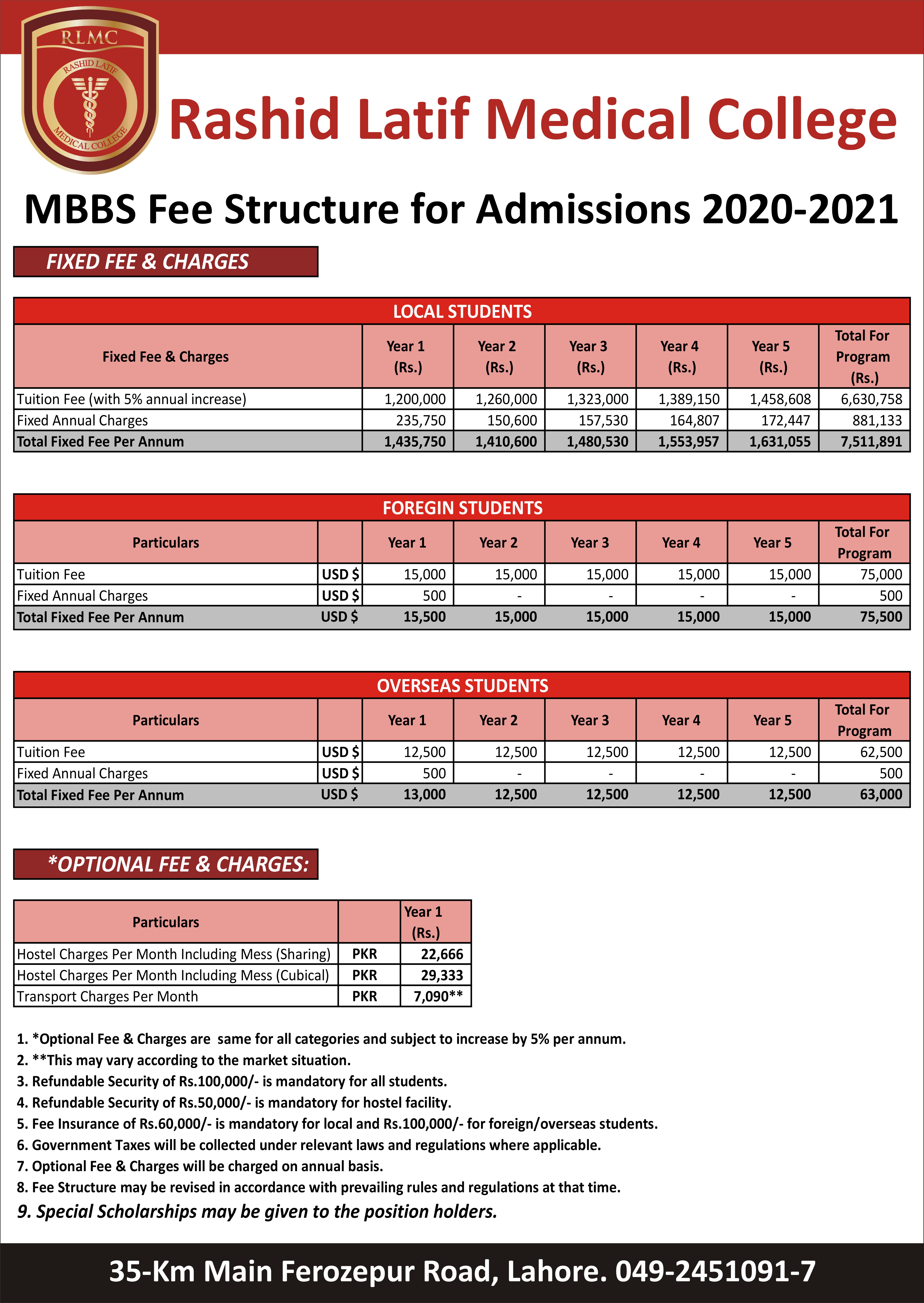 BDS Fee Structure for Admissions 2020-2021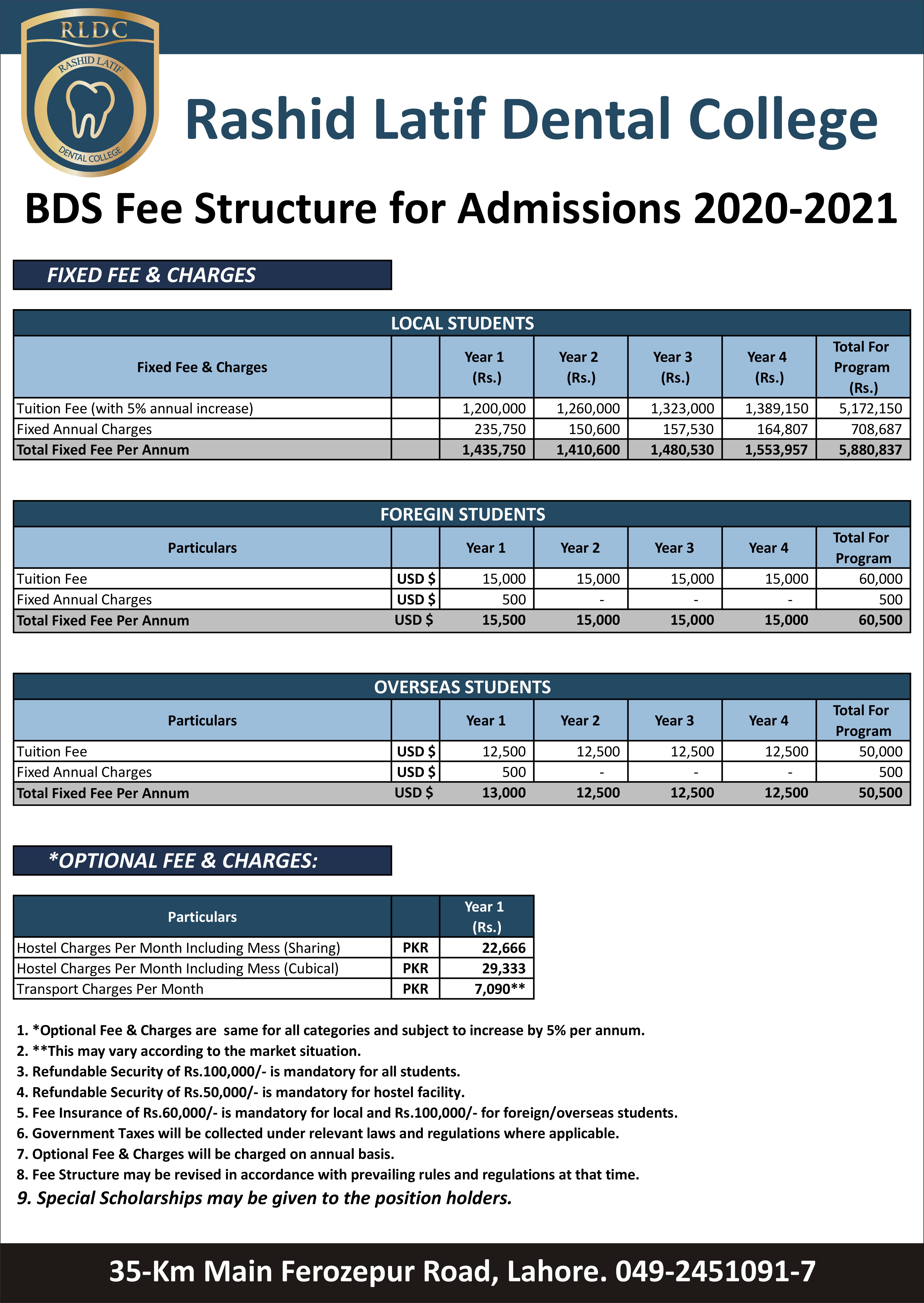 Admissions in MBBS & BDS Session 2020-21
How to apply on PMC admissions portal
Portal Opening Date: 17th December, 2020 Portal Closing Date: 11th January, 2021
Help Line Numbers from Friday 18th December, 2020
0301-8487562
0492-451091-7
Rashid Latif Medical College
&
Rashid Latif Dental College
The administration of Rashid Latif Medical Complex has initiated a helpline for prospective students applying for MBSS / BDS admissions 2020-21. We will Guide /help students/parents/guardian about how to apply on PMC Admission Portal. Note: Helpline will be open from 9.00 am to 3.00 pm, Monday to Saturday from Friday 18th December, 2020 subject to PMC portal opening.
Rashid Latif Medical College & Rashid Latif Dental College
The faculty and administration of Rashid Latif Medical College and Rashid Latif Dental College encourages its prospective students for the campus visit. You can gather first-hand information about the colleges, its attached hospital, Arif Memorial Teaching hospital, and other ancillary facilities, affiliated institutions, and the state of the art library. You will also get the opportunity to familiarize yourself with available academic faculty and the principals of both the colleges.
It is pertinent to note that in wake of the corona pandemic, you must keep social distance, wear adequate quality masks and sanitize your hands frequently. It is also requested to limit the number of accompanying persons to one. During this visit, you can meet with the staff in the finance section for any queries related to college fee and other relevant dues.
Please make a prior appointment to visit our campus. The timings for campus visits are from 10 am to 12 midday barring Saturdays & Sundays. The college is situated 15 KM from Ring Road on the right side of Lahore-Kasur Road. The college has a beautiful campus that is purpose-built and is spread over 28 acres. The college has adequate hostel facilities and transportation facilities.
Please contact the following focal persons to facilitate your visit:
Hafiza Javeria Riaz: 0301-8487562
Mr.Arslan Zulfiqar: 0492-451091-7, Ext=484
All the information about the campus and affiliated Arif Memorial Teaching Hospital is also available on our website www.rlmc.edu.pk.
SOPS for Visitors
1. Identify yourself at the main gate with the security staff.
2. They will direct you to the Rashid Latif Medical College Student Affairs' Reception.
3. Register yourself with the reception.
4. There you will be provided with visitors card.
5. You are recommended to visit the following areas:
Library
Auditorium
Class Rooms
Arif Memorial Teaching Hospital OPD on Ground Floor
Hostels
RLMC Cafeteria
6. Fill a feedback form at the end of the visit.
Make sure to maintain safe social distance at all-times. Wear adequate quality masks and sanitize your hands frequently.